NATURAL SURF WAX MADE FROM BEESWAX AND NATURAL RENEWABLE INGREDIENTS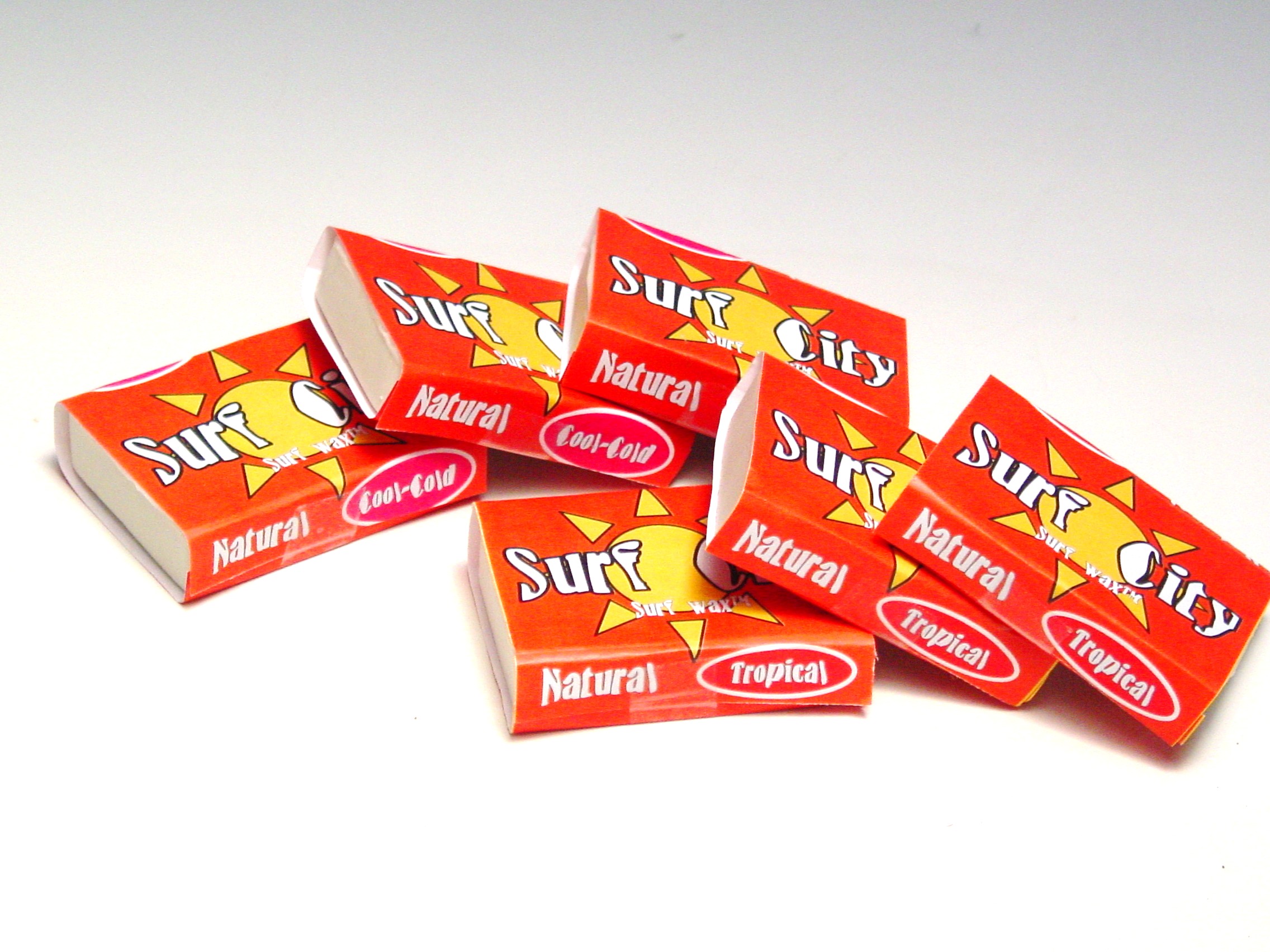 Beeswax and other natural materials
Basecoat, Tropical, Warm, Cool and Cool-Cold formulations
Private labeling available
Email for availability, wholesale prices and quantities.
Production is limited and seasonal
Standard case size is 126 bars.
| | | |
| --- | --- | --- |
| Wax Type | Temperature Range (deg. F) | Temperature Range (deg. C) |
| Tropical | > 75 deg. F | > 24 deg. C |
| Warm | 65 to 75 deg. F | 19 to 24 deg. C |
| Cool | 58 to 68 deg. F | 15 to 20 deg. C |
| Cool-Cold | 50 to 60 deg. F | 10 to 16 deg. C |
| Cold | < 50 deg. F | < 10 deg. C |
Call or email for availability. (949) 584-5289 or mark@waveequation.com
Testimonials:
I've been surfing for 43 years, and have used all kinds of surf wax as it has gone through its evolutionary process; from Gulfwax, to Surf Research, to Sex Wax, to Bubble Gum, to Sticky Bumps, etc., none of them worked as well as this new Natural Surf Wax by Ventura Enterprises. Best of all this wax is made with all natural ingredients, and no petrochemicals are used at all! The very first time I tried it, when I jumped on my board to paddle out, I was immediately impressed by the positive grip it gave me, no sliding whatsoever! While riding waves it definitely gave me more grip and stick than any other wax I have used. I live in Florida, a place that's known for its choppy and not so perfect waves, that closeout far more than not, and this wax really passed the test. I made some waves that I know I would have wiped out on, if I was using my previous wax of choice. No more petrochemical poisoning the environment surf wax is going on my boards. Thanks for making a great surf wax that's not bad for the ocean and our environment.
Surf in Peace and Harmony,
Thank you for your awesome natural wax. Done very nicely and with integrity. Thank you for your contribution and support. Your wax is truly great and quite slick. . . no pun intended. Thanks again.
Casey Mills aka Surf Wax Museum, http://surfwaxmuseum.com/index.htm
We have developed a new all natural surf wax which is made from natural renewable materials. Most surf wax is made from refined crude oil and is much like other petrochemical materials such as gasoline, kerosene, paraffin (some surf waxes may contain paraffin) , grease, and various polymers such as plastics. While these products and chemicals are useful, these can contribute to the degradation of our environment. This wax offers an alternative natural materials based wax and at a competitive price. Millions of surfers use petrochemical based waxes and this wax is either falls off into the ocean or is released into landfills after being discarded. Albeit, this mass of pollution is small, but even small efforts can add value.
Our goal was to produce a quality surf wax made from biologically derived materials and from renewable sources.